High-speed rail by country
From TrainSpottingWorld, for Rail fans everywhere
This article provides of operating High-speed rail networks, listed by country. High-speed rail is public transport by rail at speeds in excess of 200 km/h (125 mph). [1] The article also includes any planned expansion of exsisting high-speed rail networks in countries that already have one. For projects or plans in countires without exsisting high-speed rail lines, see Planned high-speed rail by country.
Asia
Japan
Japan might be considered the spiritual home of modern high-speed railways. Pioneering modern high speed rail, it also has the most heavily travelled, and the largest network currently in operation, though French plans will make it the largest network in the near future. Construction began in 1959, and in 1964, the world's first line, Tōkaidō Shinkansen opened to the public, then operating at a speed of 210 km/h.
Japan is an extremely densely populated country: more than 70% of the land surface is mountainous and thus uninhabitable or unsuitable for road travel and parking. In fact, drivers must prove they have a parking space before they can buy a car. With such a population density, the only practical possibility for transport across the country is rail. The recognition of the interrelationship between land development and the high-speed rail network led, in 1970, to the enactment of a law for the construction of a nationwide Shinkansen railway network. By 1973, the Transport Minister approved construction plans for five additional lines and basic plans for twelve others. Despite the approval, financial considerations intervened; the cost of the five lines (five trillion yen, or roughly 18 billion U.S. dollars at the 1973 exchange rate), combined with the oil shock and the recession of the 1970s and early 1980s resulted in some lines being cancelled and others delayed until 1982.
As with other high speed rail lines around the world, some Shinkansen lines cannot handle the highest speeds. Some rails remain narrow-gauge to allow sharing with conventional trains, reducing land requirement and cost. Although Shinkansen trainsets are designed to tilt to take a curve, narrow-gauge cannot safely accommodate the highest speeds. Tokyo and Osaka are congested, as the Shinkansen must slow down to allow other trains to keep their schedules and must wait for slower trains until they can be overtaken.
The hosting of the 1998 Winter Olympics in Nagano provided Japan with a valuable opportunity to showcase its technological skills with the opening of a new rail line extension. The Hokuriku Shinkansen (Tokyo to Nagano) line was opened just in time.
The national rail system (JNR), which included Shinkansen was broken up and privatized beginning in 1987 with the aim of more efficient and profitable operations in the passenger rail sector. Incremental improvements to the high-speed rail technology are being undertaken, and the network continues to be expanded. Tilting trains have been introduced to take curves faster; meanwhile, aerodynamic redesigns, stronger engines and lighter materials, air brakes, typhoon and earthquake precautions, and track upgrades are among the developments. As a result of improvements, the travel time from Tokyo to Shin-Osaka (the first route opened) has decreased from 4 hours in 1964 to 2 hours 30 minutes, and is forecast to be less than 2 hours in the near future.
A Japanese consortium led by the Central Japan Railway Company have been researching new high-speed rail systems based on magnetic levitation since the 1970s. Although the trains and guideways are technologically ready and over 100,000 people have ridden them, high costs remains as barriers. Test trains JR-Maglev MLX01 on the Yamanashi Test Line have reached speeds of 581 km/h (crewed), making them the fastest trains in the world. These new maglev trains are intended to be deployed on new Tokyo–Osaka Shinkansen maglev route, called the Chuo Shinkansen, though the project has no political support, due to a spiralling Japanese national debt.
A new generation of conventional steel wheeled Shinkansen trains FASTECH 360 with a top speed of 405 km/h and an operational speed of 360 km/h is currently under development. Production trains are expected to enter service in 2011. Regenerative braking and hybrid electric technology has been studied for use on Shinkansen trains.
Korea
Korean KTX high-speed rail, which runs on a dedicated line, became operational in April 2004, and is the second nation outside Western Europe to have high speed intercity service, after Japan. (China still doesn't have service between major cities) The maximum speed of the KTX, which derives its technology directly from France's Alstom TGV, is 300 km/h. A journey from Seoul to Daejeon that previously took around 90 to 120 minutes now takes only 49, and the time from Daejeon to Daegu (Dongdaegu St.) has been similarly reduced. Passengers can save up to 2 hours on journeys from Seoul to Busan. Since service began, there have been many complaints about the trainsets, citing general discomfort, together with seating that faces opposite the direction of travel. However, rail demand rose 25% in the second three months of service (April–June 2004). Rail revenue in general increased more than 91% from the previous year with 33% more seats offered. Recent observations indicate a growth trend and increasing public acceptance of the service. Daily ridership is now in the range of 85,000 passengers. Diversions from other modes show wide variability, according to customer surveys. KTX enticed 56% from existing rail services, 17% from air, 15% from express buses, and 12% from highways.
With the development of the HSR-350x, South Korean media argue that Korea came to be the fourth nation to develop high-speed rail independently, and the seventh nation to acquire the technology. However, the statistics should vary according to the multiple definitions of a high speed rail. The "High Speed Rail 350x" went under development by South Korean engineers several years before the French technology-transfer program. [1] The train is a product of nearly 10 years of research and development by the Korean company Rotem and the National Rail Technology Institute of Korea. Called the "Korean G-7" (a direct reference to Korea's ambitions of joining the technological prowess of G-7 nations) this technology is currently in its test-run phase and is scheduled for initial passenger operation through the Seoul-to-Gwangju sector by 2007. The proposed train would run faster than the TGV, at 350 km/h as opposed to 300 km/h.[2] The Korean G-7 incorporates several technologies the French TGV doesn't, including an aluminum body, digital traffic control, and a pressure compensation system. When operational the Korean G-7 will also allow passengers to rotate their seats, giving them the choice of a forward facing or a rear facing seat, in response to the many complaints about the fixed one-directional seating arrangements on the KTX.
In July 2006, the South Korean government announced their plan to develop an upgraded version of the G-7 called HEMU(Highspeed Electric Multiple Unit-400㎞/h eXperiment) train system by 2011.
Rotem, a member of the Hyundai group, also manufactures magnetic levitation trains.[2] They were first introduced in the 1993 Daejon International Expo.
China
Shanghai Maglev Train, a turnkey Transrapid maglev project imported from Germany, is capable of an operational speed of 430 km/h and of a top speed of 501 km/h, has connected Shanghai and Pu Dong International Airport since March, 2004. Note: China still does not have high speed service between major cities, much the less well developed networks of France and Japan, but it is in the works.
China has decided to build a second Transrapid maglev rail with a length of 160 km from Shanghai to Hangzhou (Shanghai-Hangzhou maglev line). Talks with Germany and Transrapid Konsortium about the details of the construction contracts have started. On March 7th, the Chinese Minister of Transportation was quoted by several Chinese and Western newspapers as saying the line was approved. Construction will probably start towards the end of 2006 and is scheduled to be completed in time for the 2010 Shanghai Expo, becoming the first inter-city Maglev rail line in commercial service in the world.
In 2006, China has revealed a modified version of the Japanese Shinkansen E2-1000 series, it has been confirmed that an order of 60 8-car sets has been acquired, there will be 3 sets constructed and delivered by Kawasaki Heavy Industry, with the remainder to be constructed by Nanche Sifang in Qing-Tao, China.
A conventional high-speed line based on InterCityExpress technology between Beijing and Tianjin is expected to open in 2007. The Beijing-Shanghai Express Railway is in an advanced phase of construction but it will only allow speeds of 200 km/h.
Taiwan
Taiwan High Speed Rail (THSR) is Taiwan's high-speed rail. After much debate, trial operation is open to the public at half price until Jan 31, 2007, from which normal operation will commence. It runs approximately 345 kilometers from Taipei to Kaohsiung (Zuoying Station), the first 10 km (Banciao-Taipei Station) being open at a later date. Adopting Japan's Shinkansen technology for the core system, the Taiwan High Speed Rail uses the 700T Series Shinkansen, produced by a consortium of Japanese companies, most notably Kawasaki Heavy Industries. Trains will travel from Taipei to Kaohsiung in roughly 90 minutes as opposed to the current 4-6 hours by conventional rail. A separate Japanese led project will link Taipei with its airport by high speed rail.
Europe
France
France has the most developed high-speed network in Europe. The TGV network started in 1981 with the opening of the line between Lyon and Paris (LGV Sud-Est). The TGV network gradually spread out to other cities, and into other countries such as Switzerland, Belgium, the Netherlands, and the UK. Trains that cross national boundaries may need to have special characteristics, such as the ability to handle different power supplies and signalling systems. This means that not all TGVs are the same, and there are interoperability considerations.
Germany
Construction on first German high-speed lines began shortly after that of the French LGVs. Legal battles caused significant delays, so that the InterCityExpress (ICE) trains were deployed ten years after the TGV network was established. The ICE network is more tightly integrated with pre-existing lines and trains as a result of the different settlement structure in Germany, which has almost twice the population density of France. ICE trains reached destinations in Austria and Switzerland soon after they entered service, taking advantage of the same voltage used in these countries. Starting in 2000, multisystem third-generation ICE trains entered the Netherlands and Belgium. The third generation of the ICE reaches a speed up to 363 km/h (226 mph). Admission of ICE trains onto French LGVs was applied for in 2001, but trial runs have only just been completed in 2005. Unlike the TGV or Shinkansen, a first generation ICE has had a fatal high speed crash (near Eschede), following numerous complaints of excessive shaking. Since the crash, the ICE wheels have been redesigned.
Germany is also developing the Transrapid, a magnetic levitation train system. The Transrapid reaches speeds up to 550 km/h (340 mph). A test track with a total length of 31.5 km (19.5 mi) is operating in Emsland. Unfortunately, on Sept 22 2006, 23 people died when this elevated magnetic train collided with on-track maintenance equipment near Lathen in north-western Germany. In China, Shanghai Maglev Train, a Transrapid technology based maglev built in collaboration with Germany, has been operational since March 2004.
Italy
The earliest high-speed train deployed in Europe was the Italian "Direttissima" that connected Rome with Florence (254 km/158 mi) in 1978. The maximum speed of this line was 250 km/h (150 mph). The journey time between the two cities is just over 90 minutes and the trains average about 200 km/h (125 mph). The service is carried out by Eurostar Italia (ETR 4xx, better known as Pendolino, and ETR 500 series) trains (not related to the Eurostar trains operating to the United Kingdom). Italy makes extensive use of tilting train technology, "Pendolino" (ETR 4xx series), based on research work undertaken in the 1970s by Fiat Ferroviaria.
Treno Alta Velocità is building a new high speed network on the routes Milan - Bologna - Florence - Rome - Naples and Turin - Milan - Verona - Venice - Trieste. Some lines are already opened while international links with France, Switzerland, Austria and Slovenia are underway.
The Rome-Naples line opened for service in December 2005, and Turin-Milan partially opened in February 2006. Both lines have speeds up to 300 km/h (185 mph).
Belgium
High-speed Thalys trains already operate between Belgium, Germany (Köln), The Netherlands and France. Thalys trains are a variant of the French TGV. Main stops in Belgium are Brussels, Liège and Antwerp. High speed stretches are only Paris-Brussels and most of Brussels-Liège. In 2007 Thalys will go on high-speed rail in all of Belgium. The remaning stretch between Antwerp and the Dutch border are currently being tested.
Eurostar currently connects Brussel Zuid (South) to London Waterloo station. In autumn 2007 this will be to London St Pancras station after the link is finished (See UK).
The German ICE also operates between Amsterdam - Frankfurt (sometimes also goes to Switzerland) and between Brussels and Frankfurt.
Norway
Currently, the only high speed train service is the Flytoget, commuting between the Oslo Airport and the metropolitan areas of Oslo at speeds of up to 210 km/h (130 mph). It is going to be extended westwards to include the city of Drammen in 2008, not at high speed (source).
There is also a political climate for building more high speed railway services in Norway. Currently, the VWI Stuttgart (Institute of Transportation Research at the University of Stuttgart, Germany) are doing an analysis on the possibilities for building high speed railway services between the major cities of Norway, and between Norway and Sweden, for the Norwegian Railroad Agency (Jernbaneverket).
Though the initiative to the analysis itself is an evidence of a promising political climate for high speed railways, the analysis has been heavily criticized by experts for not being done by a recognised competence on this area, for being based on inaccurate facts, and for using gross miscalculations of important datas, like potential passenger numbers and potential costs of building new high speed tracks.
The conclusions so far include that the most interesting corridors are Oslo-Gothenburg (in Sweden) and Oslo-Trondheim (through the Østerdalen valley). The analysis is expected to be completed in April 2007.
There are also several independent initiatives for high speed railways in Norway:
Den sørnorske høyhastighetsringen is a political initiative for building a high speed railway ring that will include the major cities Oslo, Bergen, Stavanger and Kristiansand, in addition to the densely populated Vestfold region.
Norsk Bane is a private initiative for a high speed railway network that will cover large parts of Southern Norway. It has several lines that can be considered independently, but at its greatest extent it will include the major cities of Trondheim, Bergen, Stavanger, Kristiansand and Ålesund with a hub in Oslo. In addition there will also be a line through the Vestfold region and lines both west and east of the Mjøsa lake. This project will however need political support before it can be started.
Norway is usually considered to be too sparsely populated and too mountaineous for high-speed or even medium-speed rail. The Oslo region is densely populated enough and seems to be the only area for them. For all time-aware passengers on long-distance journeys, air travel is the choice also for the future.
Portugal
The Portuguese government has approved the construction of two high-speed lines from the capital Lisbon to Porto and Madrid from 2007, bringing the countries' capital cities within three hours of each other. There has been an intense public debate on these plans, since the Spanish connection to the border is the worst possible for Portuguese interests . Since the late 1990s, the Italian tilting train, the Pendolino runs the Alfa Pendular service, connecting Portugal's mainland from the north border to the Algarve (southern counterpart)at a speed of up to 220 km/h (135 mph).
Spain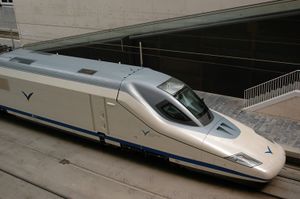 The Alta Velocidad Española (AVE) high-speed rail system in Spain is currently under construction. High-speed trains have been running on the Madrid–Sevilla route since 1992. Should the aims of the ambitious AVE construction program be met, by 2010 Spain will have 7000 km (4300 mi) of high-speed trains linking almost all provincial cities to Madrid in under 4 hours and Barcelona within 6 hours.
By 2007, the fastest long-distance commercial trains in operation will be moving passengers between Barcelona and Madrid at a top speed of 350 km/h (220 mph), traveling the 600 km (375 mi) between the two cities in only 2.5 hours. Three corporations have built or will build trains for the Spanish high-speed rail network: Spanish Talgo, French Alstom and German Siemens AG. Bombardier Transportation is a partner in both the Talgo-led and the Siemens-led consortium.
United Kingdom
In the United Kingdom, Eurostar trains, which run through the Channel Tunnel between the UK and both France and Belgium, are substantially different versions of the TGV trains, with support for multiple voltages, both pantograph and third-rail power collection, the ability to adapt to multiple platform heights, and to cope with no fewer than seven different signalling modes. Like the TGVs, Eurostar trains are articulated with bogies between the carriages, and typical operating units have 18 carriages. A fully loaded train of 794 passengers is roughly equivalent to seven Boeing 737s (the aircraft typically used by low-cost airlines). These trains operate at the highest scheduled speeds of any in the UK, using specially-built track between the Channel Tunnel and London. The Channel Tunnel Rail Link currently supports high speed trains between Folkestone to Fawkham Junction, and the extension to London St Pancras is due to open in 2007.
The remainder of Britain's railway network is considerably slower. Most inter-city traffic is restricted to a maximum speed of 200 km/h (125 mph) using routes largely established in the middle years of the nineteenth century. The main reason for this restriction is that, unlike several countries on the continent, Britain has never invested in building specialised lines for intercity services, which therefore have to share even the main lines with freight and local passenger traffic. Any increase in line speed on the existing routes would require an expensive upgrade to in-cab signalling. Even so, the speed limit on some sections of the East Coast Main Line was raised to 140mph during the upgrade and electrification of the route during the 1980s. (Both the Pendolinos used on the West Coast Main Line and the Intercity 225s used on the East Coast Main Line are capable of 140 mph / 225 km/h ). Much of this traffic is mostly handled by diesel-electric powered InterCity 125 High Speed Trains which are around three decades old. However GNER trains on the East Coast Main Line between London Kings Cross and York (which also use more modern InterCity 225s) still achieve an average point-to-point speed that puts them in the world top ten.
An attempt was made in the 1970s and 1980s to introduce a high-speed train that could operate on Britain's winding infrastructure—British Rail developed the Advanced Passenger Train using active tilting technology. After several prototypes had been built and tested, the project was closed down when the Thatcher government and British Railways management lost confidence in the technology. The tilting action on demonstration runs induced a feeling akin to seasickness in the passengers, leading to the train being nicknamed the 'vomit comet,' and the prototypes were expensive to operate and unreliable. However, the problems were near to a solution, and ultimately the technology was a success. British Rail sold it to an Italian firm, who ironed out the problems. Trains based on the old BR technology have been in service in Italy for several years. In 2004, following a large investment in the West Coast Main Line, tilting Pendolinos, based on the Italian trains, were introduced. These trains are currently limited to a top speed of 125 mph (200 km/h) although they were designed to run faster—cost over-runs on the track and signalling refurbishment project led to the line being rebuilt with the lower speed limit rather than the 140 mph (225 km/h) originally planned. The Pendolinos are operated by Virgin Trains, on services from London Euston to Birmingham, Edinburgh, Glasgow, Liverpool, and Manchester (with occasional services to Holyhead although for the foreseeable future these will continue to be hauled by diesel locomotives west of Crewe due to the lack of OHLE).
Recently, several proposals for domestic British high speed lines have been put forward and the government is considering building a north-south line. For more information, see High-speed rail in the United Kingdom.
North America
United States
The United States currently has only one high-speed rail line in operation, the Acela Express, which runs between Washington, D.C. and Boston via New York City. On average, the line is not as fast as other high-speed rail lines.
California has made the most progress towards establishment of a "true" high-speed line; in the 2008 elections voters in the state will decide whether to fund construction of a line running between San Diego and Sacramento via Los Angeles and San Francisco. If built, the line would run as fast as 220 mph (350 kph) and may use maglev propulsion. The project is being administered under the California High-Speed Rail Authority.
References