Taiwan High Speed Rail
From TrainSpottingWorld, for Rail fans everywhere
The Taiwan High Speed Rail (Traditional Chinese: 台灣高速鐵路, also known as the THSR) is Taiwan's high-speed rail network, running approximately 345 kilometers (214 mi) from Taipei City to Kaohsiung City, which began operations in January 2007. Adopting Japan's Shinkansen technology for the core system, the THSR uses the Taiwan High Speed 700T train, manufactured by a consortium of Japanese companies, most notably Kawasaki Heavy Industries [1]. The total cost of the project is currently estimated to be USD $15 billion [2]. Trains travel from Taipei City to Kaohsiung City in roughly 90 minutes as opposed to the current 4-6 hours by conventional rail [3].
History
The first plans for a high speed rail line linking the cities of Taipei and Kaohsiung were proposed in a Ministry of Transportation study in 1990. They were then approved by the Executive Yuan in 1992 and the Legislative Yuan in 1993. The decision to pursue a Build-Operate-Transfer method was also approved. After a prolonged bidding process, the Taiwan High Speed Rail Corporation (THSRC) was formally established in May 1998.
The European InterCityExpress (ICE) was initially selected to form the core system of THSR. In 1998, ICE saw the Eschede train disaster in which more than one hundred people died and another hundred were severely injured. Combined with the Chi-Chi earthquake on 21 September 1999, it was decided to adopt Japan's Shinkansen technology instead of ICE due to Shinkansen's "UrEDAS" (Urgent Earthquake Detection and Alarm System, ja:ユレダス) earthquake detection system, developed in 1992.
Actual construction began in March 2000, with running tests starting in January 2005. In late October 2005, Taiwan High Speed Rail passed its targeted speed of 300 km/h (186 mph) to 315 km/h (197 mph) during testing.
Trial runs between Banciao (Taipei) and Zuoying (Kaohsiung), open to the public and with half-price fares, began to operate 19 times daily in each direction starting January 5, 2007[4]. A formal opening is expected soon thereafter. The HSR platforms at Taipei Main Station are scheduled to open in February 2007[5].
Some of the same Japanese companies won another project in December 2005 to build a high speed rail link to Taiwan Taoyuan International Airport, with the exception of the signaling system which has been awarded to Westinghouse Rail Systems.
Controversy
The project is funded by private means, billed as the largest Build-Operate-Transfer project in the world, but the development corporation THSRC consistently failed to meet its funding targets on time. The project has also been dogged by repeated controversy, including allegations of poor quality construction, claims of unresolved safety concerns (due to three derailments during the tests in early November 2006) by THSRC oppositions, and the one year long delay. [6].
Supporters of the project believe THSR will help relieve traffic congestion along the heavily traveled western corridor, while having the advantages of greater safety, high transit volume, low land occupancy, energy economy and low pollution. It has also been argued that the THSR will help promote the balanced development of western Taiwan.
Operations
Like Japan's Shinkansen, some express trains will run the entire route with only a single intermediate stop at Taichung, whereas other trains will stop at every station en route. Economy and business classes compartments are available aboard each train, with the latter offering wider seating, individual audio entertainment systems and power outlets for portable electronics in each seat, as well as a WiFi network.[7]
Stations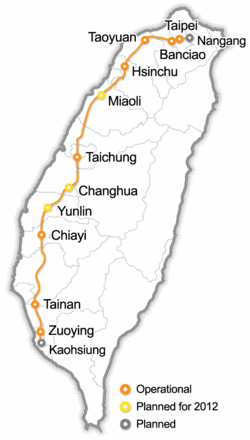 Thirteen Taiwan High Speed Rail Stations stations are planned in the western corridor. In the early phase, eight stations are located in Taipei, Banciao, Taoyuan, Hsinchu, Taichung, Chiayi, Tainan and Zuoying. Five stations (Nangang, Miaoli, Changhua, Yunlin and Kaohsiung) will be built in a later phase.
Gallery
Trains
Stations
See also
References
Further reading
Hood, Christopher P. (2006). Shinkansen – From Bullet Train to Symbol of Modern Japan. London: Routledge. ISBN 0-415-32052-6. 
External links
zh-min-nan:Tâi-oân Ko-sok Thih-lō͘ de:Taiwan High Speed Rail fr:Ligne à grande vitesse de Taïwan ko:타이완 고속철도 ja:台湾高速鉄道 zh:台灣高速鐵路