Midwest Regional Rail Initiative
From TrainSpottingWorld, for Rail fans everywhere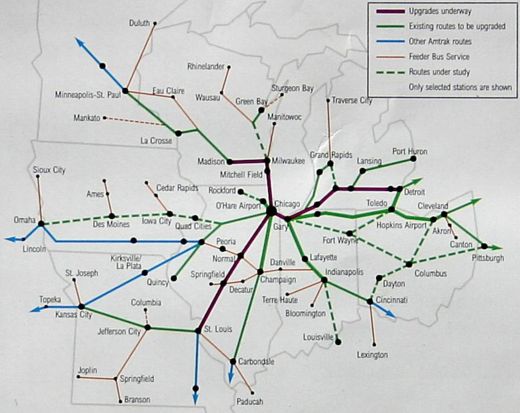 The Midwest Regional Rail Initiative or Midwest Regional Rail System (MRRI, MWRRI, or MWRRS) is a plan to implement a high-speed rail network in the Midwestern United States, using Chicago as a hub and including 3,000 miles (5,000 km) of track. Primary routes would stretch across Illinois, Indiana, Michigan, Minnesota, Ohio, and Wisconsin, possibly reaching Kentucky. Secondary routes would operate at a somewhat slower speed across Missouri and Iowa, just touching Nebraska and nearly reaching Kansas. Existing Amtrak routes would probably be upgraded as part of this plan, which has been in development since 1996. However, funding remains a problem, and it is unclear when construction might begin.
Trains would travel at about 110 miles per hour (180 km/h) on the primary routes, but 80 to 90 mph (130 to 145 km/h) on secondary lines. Existing trains run at speeds of about 55 mph (90 km/h) to 80 mph (130 km/h). Raising the speed would significantly reduce trip times. A trip between Milwaukee and Chicago would be reduced from about 90 minutes to just over an hour. The trip from the Twin Cities to Chicago would drop from 8 hours to 5½. Travelers between Chicago and Cincinnati would see the biggest gains, cutting travel time in half to just 4 hours.
If implemented, planners would expect 13.6 million annual riders by the year 2025. The frequency of train trips would also be increased: areas that currently only see one train in each direction every day would be upgraded to four or six trips each way.
In addition to providing better connections between Midwestern cities, another goal of the project would be to reduce or eliminate the subsidies that American passenger train routes currently require. The total investment required for the system, paying for infrastructure as well as rolling stock, is estimated at US$7.7 billion in 2002 dollars. $1.1 billion of that would go toward purchasing 63 new trainsets. Current plans call for phased construction taking about a decade.
Some construction has begun in Illinois and Michigan, primarily as testbeds for the upgraded signalling and control systems required for higher speed operation. In Michigan, this work has already resulted in increased service speeds for Amtrak's Wolverine service. [1] However, similar work on the Chicago-Saint Louis line in Illinois has been met with considerable technical difficulties. [2]
External links