InterCity 225
From TrainSpottingWorld, for Rail fans everywhere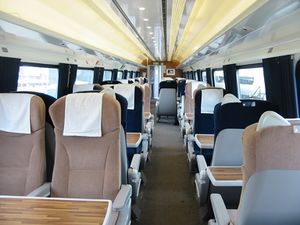 The InterCity 225 is the fastest loco-hauled domestic train in the United Kingdom, comprising a Class 91 electric locomotive, and nine Mark 4 coaches and a Driving Van Trailer. The Class 91 locomotives were built by BREL at Crewe works as a spin-off from the Advanced Passenger Train project, which was abandoned during the 1980s, whilst the coaching stock was built by GEC-Alsthom in Birmingham - again borrowing heavily from the APT - see High Speed Train page for more details.
Service history
The InterCity 225 entered service with British Rail on the East Coast Main Line in 1990. The units also operate on a small section of the West Coast Main Line between Glasgow and Carstairs. In 1996, as part of the privatisation of British Rail, all InterCity 225s were sold to HSBC Rail, which leases them to GNER.
The InterCity 225 has a theoretical top service speed of 140mph (225 km/h); during a test run on Stoke Bank between Peterborough and Grantham an Intercity 225 reached 261.7 km/h. However, except on the Channel Tunnel Rail Link which is equipped with cab signalling, British signalling does not normally allow trains to exceed 200 km/h, due to the impracticality of observing lineside signals at high speed. The Advanced Passenger Train of the early 1980s used a new hydrokinetic braking system to allow it to brake from 155mph (250 km/h) within existing signalling distances. It is believed that the InterCity 225 project was originally to be called APT-U, but this name was dropped after the failure of the previous APT-P trains and to avoid the negative publicity related to the APT.
Between late 2003 and April 2006 GNER and Bombardier Transportation undertook a complete rebuilding and refurbishment programme for the Mark 4 coaches, called Project Mallard. See British Rail Mark 4 for more details.
See also
External links