Battlefield Line Railway
From TrainSpottingWorld, for Rail fans everywhere
The Battlefield Line Railway is a heritage railway in Leicestershire, England. It runs from Shackerstone (Grid ref SK 379 065) to Shenton (SK 396 002), via Market Bosworth, a total of four and a half miles. Shenton is near Bosworth Field, (known from Shakespeare's Richard III), giving the railway its name.
The railway runs steam and diesel-hauled trains every weekend from April to October, as well as a summer mid-week service on Wednesdays in July and August; the latter is operated by their Heartlander diesel railcar service. They also operate numerous special events such as the Christmas Santa Specials (which operate on all weekends throughout December) and bi-annual diesel galas.
The railway line has numerous locomotives, but currently (October 2006) has two steam locomotives and five diesel locos as well as railcars and some shunters in operation.
History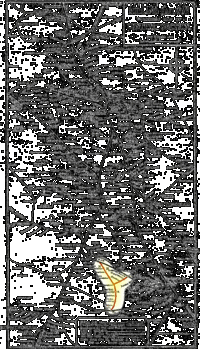 The railway used to be part of the London and North Western Railway and the Midland Railway, who operated the line jointly between Moria West Junction and Nuneaton. The first trains ran along this section in 1873. At Shackerstone station, there was once a junction where one section branched off towards Moria and Ashby and the other went towards Coalville Junction. In 1883, the Charnwood Forest Railway was opened, which extended the branch from Coalville Junction to Loughborough's Derby Road station, passing through the villages of Whitwick and Shepshed. In the 1923 Grouping, these lines were assigned to the London Midland and Scottish Railway. In 1931 the last scheduled passenger train went down the Charnwood Forest branch, with the line then only being open to freight and excursions until the 1960s. The Coalville Junction - Shackerstone section was dismantled and closed completely in 1964. The Ashby - Nuneaton line had its last passenger service in 1965, which was an enthusiasts special, before British Rail pulled the rails up in 1970. Back in its heyday, Shackerstone was a busy station, with steam trains doing the workings between Ashby and Nuneaton, whilst a railcar did the service between Shackerstone and Loughborough Derby Road.
The Shackerstone Railway Society was set up in 1969 at Market Bosworth, but soon moved to Shackerstone in 1970, as they needed a proper home for their first steam engine. When they got to Shackerstone they found one through line still intact, and their first aim was to build some sidings. Later they re-instated the "down" platform and connected the sidings to the line to Market Bosworth.
In 1973, to celebrate the centenary of the line, a small train of open wagons was hauled to Market Bosworth. Following the successful conclusions of the negotiations with British Rail, a start was made on track rearrangements which created run-round loops at both ends of the line and a number of sidings at Shackerstone.
In the early 1990s, the Battlefield Line launched a campaign to extend their line to Shenton. This involved buying one and a half miles of rail and in 1992 after a successful campaign, the inaugural service arrived, hauled by the appropriately named 0-6-0 tank engine "Richard III."
Trivia
The line was originally double track but was later singled. Confusingly, part of the line was called the Bluebell Railway, not to be confused with the line of the same name in Sussex.
The 1902 royal train now in the National Railway Museum had its first outing to Shackerstone in December 1902. Conveying Edward VII, Queen Alexandera and Princess Victoria to the station on their way to Gopsall Hall, where Handel wrote the Messiah a few years prior to that!
Steam Locomotives
No 3 0-6-0T Richard III. Built in 1949. Undergoing restoration following a long period out of service.
No 7 0-4-0T. Built in 1949. Awaiting a major restoration.
No 3 0-6-0T Lamport. Built in 1942. Awaiting overhaul following its boiler ticket expiring.
No 6 0-4-0T Linda. Built in 1940. Painted in black, lined out in red and straw. Returned opertaional service in Oct 2006 hoped to haul a limited passenger service in 2007.
No 750 0-4-0T Waleswood. Built in 1906. Under going long term restoration.
No 9599 0-4-0 VBT Sentinel William. Built in 1955. Returned to service in 2004 and operates on occasional special event days.
No 1859 0-6-0T Sir Gomer. Built in 1932. Operation and used on passenger trains on a regular basis.
Over the 2006 Christmas period, LNER 1306 Mayflower, will be visiting from the Nene Valley Railway to haul the Christmas specials.
Heritage Diesel Locomotives
Class 20 diesel No 20105. Stored awaiting overhaul.
Class 31 diesels No 31101 and 31130. Both are in full working order and used regularly on diesel services and diesel galas.
Class 33 diesels No 33008 and 33019. 33008 is under restoration and 33019 is operational on passenger trains.
Class 37 diesel No 37227. Under repair which is to be completed shortly.
Class 45 diesel No 45015. Stored out of use awaiting a major restoration.
Class 47 diesel No 47640. In service and works regular passenger trains.
Class 73 diesel No 73114 and 73105. 73114 in in service and 73105 is stored awaiting an engine replacement and bodywork overhaul.
Diesel shunters
Class 04 No 11215. Out of service and undergoing overhaul.
Ruston Hornsby No 2 Nancy. In service.
Motor rail Simplex No 9921 Rusty. Operational but only used on special events because of its size.
Class 02 No D2867 Diane. Operational.
Andrew Barclay No 422 Hot Wheels. Stored out of use.
Class 03 No 03170. Operational and used regularly.
Class 03 No 03180. Stored out of use.
Class 04 No D2310. Operational, a regular shunter on the line.
Class 11 No 12083. In service and used for regular shunting.
English Electric No 8431. Stored out of use.
Hunslet 6684. Stored out of use.
Ruston Hercules. Operational but currently undergoing a bodywork overhaul.
Class 07 No 07005. Stored out of use.
Barclay Big Momma. Under restoration.
Class 08 N0 08576. Awaiting Restoration.
Class 08 No 08825. Stored out of use.
Class 08 No 08168. The most regular shunter on the line, in full working order.
Diesel Multiple Units
Class 122 DMBS No 55005. Operational and used on Diesel and DMU services.
Class 116 DMBS No 51131. Operational, used with No 51321 on passenger trains regularly.
Class 118 DMS No 51321. Operational, used with 51131 on passenger trains, operates regularly.
Railways website: www.battlefield-line-railway.co.uk
External links