GWR 6959 Class
From TrainSpottingWorld, for Rail fans everywhere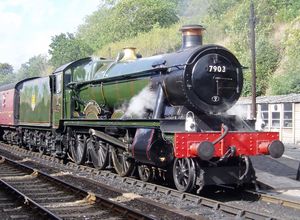 The Great Western Railway (GWR) 6959 Class or Modified Hall Class is a class of steam locomotive. They were a development of the earlier Hall Class by Frederick Hawksworth.
The most obvious visual difference is that the steam pipes exit the smokebox slightly higher and from a frontal aspect, the leading pony truck has a solid bar across the front. Some of them were also equipped with flat, high-sided Hawksworth tenders.
They were numbered 6959-6999 and 7900-7929.
Preservation
A total of 7 have survived to preservation.
External links