2-10-10-2
From TrainSpottingWorld, for Rail fans everywhere
Under the Whyte notation for the classification of steam locomotive wheel arrangements, a 2-10-10-2 is a locomotive with two leading wheels, two sets of ten driving wheels, and a pair of trailing wheels. The equivalent UIC classification is (1'E)E1'. All 2-10-10-2 locomotives have been articulated locomotives, Mallet locomotives in particular.
This wheel arrangement was rare. Only two classes of 2-10-10-2 locomotives have been built; the Atchison, Topeka and Santa Fe Railway's 3000 class, and the Virginian Railway's class AE.
ATSF 3000 class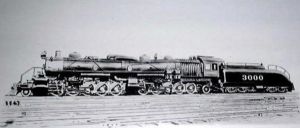 This class of ten 2-10-10-2 locomotives were actually rebuilt from more conventional 2-10-2 Baldwin-built locomotives by the Atchison, Topeka and Santa Fe Railway in 1911.
Although they appeared to have exceedingly long boilers, the barrel in front of the rear set of cylinders actually contained first a primitive superheater for further heating the steam before use; the steam was carried forward from the boiler proper by outside steam pipes as shown in the photograph. Also contained in this space was a reheater to give additional energy to the high-pressure exhaust before it was fed to the forward low-pressure cylinders.
In front of that, there was a feedwater heater, a space where cold water from the tender could be warmed before being injected into the water proper. This worked similarly to the boiler itself; the firetubes passed through the feedwater tank.
The experiment was decidedly unsuccessful, and the locomotives were rebuilt back to 2-10-2s during 1915–1918.
Specifications
Road numbers: 3000–3009
Driver diameter: 57 in (1.45 m)
Weight: 616,000 lb (279,400 kg = 279.4 t)
Tractive effort: 111,600 lbf (496 kN)
Boiler pressure: 225 lbf/in² (1.55 MPa)
Cylinder diameter: 28 in (711 mm) high pressure, 38 in (965 mm) low pressure
Cylinder stroke: 32 in (813 mm)
Virginian Railway class AE
These ten locomotives were built in 1918 by ALCo for the Virginian Railway. Due to size limitations en route, the locomotives were delivered without cab or the front, low pressure cylinders, which were installed on site. The low pressure cylinders at 48 inch (1.22 m) diameter were the largest ever used on a US locomotive; they had to be tilted slightly upward to provide sufficient clearance.
As can be seen in the photograph, the tenders fitted were unusually small; this was to enable them to fit on the Virginian Railway's turntables.
This class were true Mallet locomotives, in that as well as being articulated between the forward, swinging engine unit and the rear fixed one, they were also compound locomotives; the rear, high pressure cylinders exhausted their steam via a long pipe into the giant front cylinders. Like many compound locomotives, it could be operated in "simple" mode for starting; high pressure steam could be sent straight to those front cylinders at low speed, for additional tractive effort.
Unlike some other giant locomotives of the period, the immense boilers could generate enough steam to make the locomotive a success on the slow (8 mph or 13 km/h) drag freights it hauled. The locomotives remained in service until 1952.
Specifications
Road number: 800–809
Driver diameter: 56 in (1.42 m)
Weight on drivers: 617,000 lb (280 t)
Locomotive weight: 684,000 lb (310 t)
Locomotive & tender weight: 898,000 lb (407 t)
Grate area: 109 ft² (10.1 m²)
Cylinders: (2 HP) 30 in (762 mm) dia. × 32 in (813 mm) stroke (2 LP) 48 in (1220 mm) dia. × 32 in (813 mm) stroke
Boiler Pressure: 215 lbf/in² (1.49 MPa)
Tractive effort:147,200 lbf (655 kN) (compound); 176,600 lbf (786 kN) (simple)
Tender capacity: 13,000 US gallons (49,000 L) water, 12 short tons (11 t) coal