2005
From TrainSpottingWorld, for Rail fans everywhere
By month
January
February
February 2 - The Las Vegas Monorail system is shut down due to problems with the electrical system; it is reopened 12 hours later after the replacement of a 30-foot (9.14 m) section of the power rail.
February 14 - The San Diego Electric Railway Association in California salvages the body shell of car 357 (formerly of the Bellingham, Washington, streetcar system) from a Centre City San Diego restaurant site where it had been used as a "dining room" since 1972.
March
April
July
July 10 - A northbound Canadian National Railway train on the former Illinois Central Yazoo Subdivision runs past a red signal and collides with a southbound train. About 15,000 gallons of fuel spill from the locomotives, providing fuel for a fire that burned more than 15 hours; all head-end crewmembers on both trains die in the accident.[4]
September
September 15 - The conductor of Union Pacific Railroad freight train in Shepherd, Texas, leaves his switch keys behind in a switch control, leaving the switch aligned for the siding holding a parked train, causing the next train to come by to enter the siding and collide with the standing train, killing the engineer of the second train.[5]
September 17 - A Metra train in push mode from Joliet toChicago traveling at 69 mph derails as it traverses a crossover rated at 10 mph; two passengers are killed in the accident and more than 100 others are injured.[6]
October
October 5 - A Union Pacific Railroad maintenance of way employee who was walking back to a tamper to continue his work near Laramie, Wyoming, is struck and killed by a westbound train traveling at 40 mph; a subsequent NTSB investigation shows the accident to be the result of an agreement between the operating and maintenance departments on the required notifications to maintenance personnel when trains are operating near them and also a result of the maintenance employee not walking at a safe distance from the track.[7]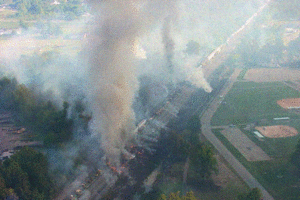 October 15 - A westbound Union Pacific Railroad freight train collides with a standing freight train in the Texarkana, Arkansas, classification yard; a tank car carrying propylene is ruptured and the gas ignites, forcing the evacuation of about 3,000 residents within a 1-mile radius of the accident.[8]
Construction is completed on the Qingzang railway in China between Golmud and Lhasa, Tibet.
Pacific National, who had taken over commercial running of the TasRail network, closed the Derwent Valley Line west of New Norfolk, in effect closing the Derwent Valley Railway.
Unknown date
References