Douglas Bay Horse Tramway
From TrainSpottingWorld, for Rail fans everywhere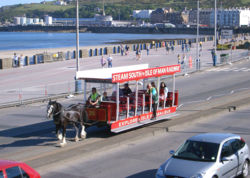 The Douglas Bay Horse Tramway is a horse-drawn tramway in Douglas on the Isle of Man. The route runs along the seafront promenade for 1.6 miles (~2.8 km), from a southern terminus at Victoria Pier, by the Sea Terminal to a northern terminus at Derby Castle, the southern terminus of the Manx Electric Railway. The route consists of 3 ft (914 mm) gauge track, is double-tracked throughout, and is not segregated from other road traffic.
The service was introduced in 1876 and has run every year since, except for a period during the Second World War. Since 1927 the service has run in summer only. Service is provided by 23 tramcars and some 45 horses provide the motive power.
The tramway is owned and operated by the Douglas Borough Council. It is one of the very few horse-drawn tram routes in the world.
References
Hendry, R., (1993), Rails in the Isle of Man: A Colour Celebration, Midland Publishing Limited, ISBN 1-85780-009-5
Pearson, K., (1999), Douglas Horse Tramway - A Millennium Year History, 1st Edition, Adam Gordon, ISBN 978-1-874422-25-9
See also
External links