Cisalpino
From TrainSpottingWorld, for Rail fans everywhere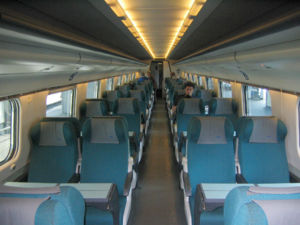 The Cisalpino is a high-speed train that interconnects Basel, Geneva, Zürich, Milan, Venice, and Florence.
The tilting train (colloquially known as "Pendolino"), the Italian ETR 470, provides a comfortable and fast connection between Italy and Switzerland.
The Cisalpino operates on three lines, each passing through one or more of the major rail tunnels through the Swiss Alps:
Due to continuing problems with timeliness, maintenance and cleanliness of the trains, service between Zürich and Stuttgart was discontinued in mid-December 2006. The line is served by ICE-T trains instead.
The train has two classes. In first class, power plugs are available. The Cisalpino comes with a dining car. Reservations are recommended. In international trips, a surcharge is to be paid, along with the reservation. Bicycles cannot be conveyed.
The train is operated by Cisalpino AG which has its headquarters in Bern; the firm is jointly owned by the Swiss Federal Railways and Trenitalia. Train maintenance is carried out in Milan by the Italian railway operator Trenitalia. Trains are staffed with personnel from Trenitalia, as well as the Swiss (Swiss Federal Railways), while the catering is operated by the Italian company Cremonini S.p.A of Rome. Ticket sales are from the three operators and travel agencies.
Note
In addition to the tilting train described by this article, Cisalpino AG operates several other trains using conventional (non-tilting) technology. These are operated under the EuroCity and InterCity categories and carry the Cisalpino name as well.
Cisalpino AG has ordered 14 new seven-car tilting train sets, ETR-610, planned for partial delivery by the end of 2007 along with the commissioning of the new Lötschberg Base Tunnel.
See also
External links
af:Cisalpino cs:Cisalpino de:ETR 470 it:Cisalpino nl:Cisalpino ja:Cisalpino war:Cisalpino zh:齐萨尔皮诺