InterCity
From TrainSpottingWorld, for Rail fans everywhere
This article is about the InterCity system in general. For the British Rail system, see InterCity (British Rail).
InterCity (commonly abbreviated IC on timetables and tickets) is the classification applied to certain long-distance passenger train services in Europe. Such trains (in contrast to regional, local, or commuter trains) generally call at major stations only.
The term originated in the United Kingdom, with the InterCity sector of British Rail. Following the privatization of the railways in Great Britain, the term is no longer in official use there, although many people still refer to fast long-distance services as InterCity trains.
In a number of countries the payment of a supplement over and above the ordinary fare is required for travel by InterCity trains. For example:
According to the railway operators, InterCity trains consume only a third of the energy requirement of passenger airplanes and just a sixth of that demanded by single-occupancy private cars, and are consequently promoted as both energy-efficient and environmentally friendly transport modes.
InterCity by country
Germany
In Germany, the InterCity network was launched in 1971 to accompany and eventually replace the Trans Europ Express trains. At first, IC services were first-class only, often using TEE stock and the then-new Class 103 locomotives. Trains ran bi-hourly.
In 1978, it was decided to expand the IC network to services with both first and second class, and so the new scheme, called IC '79 was launched in 1979 with the motto "Jede Stunde, jede Klasse" ("every hour, every class") to emphasize its new structure. Large numbers of air-conditioned open coach cars, the Bpmz 291, were built for InterCity services, which at first were using the TEE colour scheme. In 1985, with many of the TEE trains gone and the introduction of the InterRegio, the network was expanded again, now covering virtually any major city of then-West Germany. It faced further changes after the German reunification and the introduction of the InterCityExpress in the early 1990s.
Today, after the abolition of the InterRegio in 2002, most long distance connections in Germany are either IC or ICE trains; they most commonly offer at least an hourly service. Maximum speed for an IC is 200 km/h.
Austria
The ÖBB operate IC services. However, contrary to most other countries, these services are oftentimes little more than regional trains, as most long-distance, high-standard trains in Austria are likely to be EuroCity services. Modernised stock is used under the brand name ÖBB-IC on the Westbahn. Template:Section-stub
Switzerland
Swiss InterCity services started in 1982, replacing the Swiss Express on the line Geneva-St. Gallen. As there is no surcharge for express services in Switzerland and rolling stock is mostly the same as on InterRegio services, there is litte difference between IC and ordinary services. Some IC lines run with double-deck coaches as they see heavy usage by commuters. There also is a tilting train category called ICN. Template:Section-stub
The Netherlands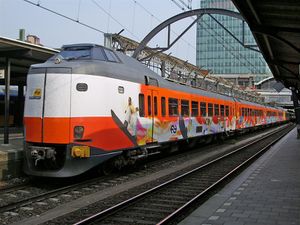 Trains denoted as IC services are commonplace in the Netherlands, but due to the geographical situation of the country they call at stations rather often, and are more similar to regional services of other countries than to a true intercity link. Rolling stock most commonly seen is the Koploper (called Intercitymaterieel or Plan Z) multiple unit, though Dutch Railways acquired a number of ex-DB express coaches for locomotive-hauled services.
Denmark
In Denmark no surcharge is applied to IC trains, and as InterRegio only services the Århus - Copenhagen connection InterCity is by far the most used service in most of the rest of the country. The Inter City network is serviced by IC3 trains, which are planned to be replaced by modern IC4 trains by 2007-2008.