City of Denver
From TrainSpottingWorld, for Rail fans everywhere
For the city, see Denver, Colorado.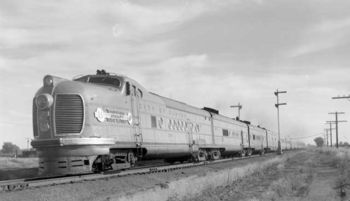 The City of Denver was a passenger train operated jointly by the Chicago and North Western (CNW) and Union Pacific (UP) railroads. The train operated on both railroads' rights of way between Chicago, Illinois, and Denver, Colorado. In 1955 the Milwaukee Road assumed the service, replacing the Chicago and Northwestern between Chicago and Omaha.
This train service was the fastest long-distance passenger train in the world when it debuted in 1936, traversing the 1,048 miles in as little as 16 hours (an average of about 65 miles per hour).
History
Timeline
Other railroad uses of the name City of Denver
The name has also been applied to a cafe/lounge car that is still owned and operated by the Union Pacific in employee and other special trains. This car was built by St. Louis Car Company in 1949 as UP's car #5011.
See also
External links