Nebraska Zephyr
From TrainSpottingWorld, for Rail fans everywhere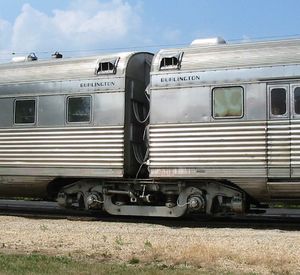 The Nebraska Zephyr was a named passenger train of the Chicago, Burlington and Quincy Railroad (CBQ, commonly known by the shorter name of "Burlington").
One of the trains used in the Nebraska Zephyr service which operated in the era between the 1930s and the 1970s was donated to the large Illinois Railway Museum (IRM) at Union, west of Chicago, Illinois. It is powered by the only surviving EMD E5, one of the large "E" series passenger diesel-electric locomotives made in nearby LaGrange, Illinois, by General Motors Electro-Motive Division. The train features the distinctive and durable stainless steel fluting made famous by the original "Silver Streak" Pioneer Zephyr.
History
The Nebraska Zephyr trainset was built in 1936 as one of two Twin Zephyrs, built for service between Chicago and Minneapolis-St. Paul, both of which had cars named for classical deities. This trainset was known as the "Train of the Goddesses" and its cars were named Ceres, Diana, Juno, Minerva, Psyche, Venus, and Vesta. Early typical motive power for the train was provided by a shovel-nose diesel named Pegasus. In 1947 the train derailed at speed and hit the train station in Downers Grove, Illinois. Three people were killed and 30 injured in this accident.
In November 1947 the repaired trainset was reassigned to Nebraska Zephyr service between Chicago and Lincoln, Nebraska. The "Train of the Goddesses" was used in this service for over 20 years, until retirement in January 1968. During that period cars Diana and Psyche were removed from the trainset.
The Nebraska Zephyr arrived at the Illinois Railway Museum on September 21 1968 and it has been in use by the museum since then; it is still operated on short runs on the Museum's substantial trackage, providing train enthusiasts and tourists with an experience reminiscent of the heyday of the Burlington's Zephyr service.
Further reading
McGonigal, Robert S. (May 2005), "Silver Survivor", Trains Magazine, p. 32-37.
References
External links