Ohio State Limited
From TrainSpottingWorld, for Rail fans everywhere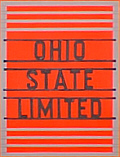 The Ohio State Limited was a named passenger train of the New York Central Railroad, which either started or terminated at Grand Central Terminal in the heart of New York City. The Ohio State Limited was the Central's answer to the Pennsylvania Railroad's Cincinnati Limited.
In 1938, eastbound train No. 16 departed Cincinnati Union Terminal at 3:30 p.m.; scheduled stops included Cleveland at 8:30 p.m., Buffalo, New York City, at 12:05 a.m., and Albany at 5:30 a.m. with arrival in New York City at 8:20 a.m. Westbound No. 15 had a 17-hour 30-minute schedule, leaving New York at 3:00 p.m. and terminating in Cincinnati at 8:30. Also in 1938, the westbound train offered dining car service between New York and Syracuse (dinner) and Columbus and Cincinnati (breakfast) in addition to coaches, sleeping cars and a lounge car. It also included sleeping cars for Boston-Cincinnati, Buffalo-Cincinnati, New York-St. Louis and Boston-St. Louis passengers.[1]
There was no Ohio State Limited listed on the last passenger timetable published by the Penn Central on March 3, 1971 (less than two months before newly-created Amtrak assumed responsibility for a reduced national passenger system).
See also