Northern Arrow
From TrainSpottingWorld, for Rail fans everywhere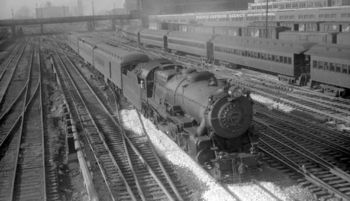 The Northern Arrow was one of the named passenger trains of the Pennsylvania Railroad [1] serving St. Louis, Missouri, Cincinnati, Ohio, Chicago, Illinois, and Mackinaw City, Michigan. It used the GR&I Branch route. The train was frequented by northbound travelers to popular Northern Michigan destinations of Grand Rapids, Michigan, Petoskey, Michigan and Mackinaw City. One section of the Northern Arrow was a seasonal summer weekly service bewtween Cincinnati, Fort Wayne, Indiana, and Mackinaw City, while another section ran between St. Louis, Fort Wayne, and Mackinaw City.
On May 26, 1950 the Northern Arrow was re-equipped with a lightweight lounge and sleeping cars plus a dining car decorated with Northern Michigan photomurals.[2]
Service was ended in 1961.