Garrison train crash
From TrainSpottingWorld, for Rail fans everywhere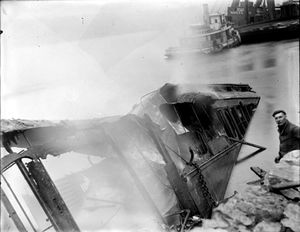 The Garrison train crash occurred on October 24, 1897 in Garrison, New York on a Sunday morning, at approximately 5:47 am,[1] when train No. 46, of the New York Central & Hudson River Railroad derailed near King's Dock of the Hudson River division, about one and three-quarters miles south of Garrison. 19 people were killed, all but one of whom drowned when the embankment gave way plunging the train into the Hudson River.[2][3] Witness described feeling between one and three "thuds" before three of the five sleeper cars fell into the river.[2] Several witnesses described seeing a "hole" in the trackbed after the accident, however, the cause of this was not determined.[2] Early speculation blamed a large explosion of dynamite as the cause of the train's derailment.[4] Two weeks previously, the same train had almost derailed near the same spot when a two-ton boulder was found on the tracks, with some believing it had been deliberately placed.[4]
The final report on the cause of the accident was inconclusive, with investigators concluding that either the train derailed and then destroyed the embankment, or that the embankment gave way leading to the derailment.[2] The commission noted that track walkers, employed to walk along the tracks to inspect them, and the embankment, for damage were not employed during the summer except in periods of heavy storms. It recommended that the number of track walkers be immediately increased.[2]
External links
References
↑ "CENTRAL WRECK INQUEST; Investigation Into the Casualty at Garrison's Begun at Cold Spring. NO NEW FACTS DEVELOPED The Conductors and Train Crews Tell Practically the Same Story and Fail to Give Any Explanation of the Accident.", New York Times, 1897-10-30. Retrieved on 2011-02-19.
↑ 2.0 2.1 2.2 2.3 2.4 "THE GARRISON'S DISASTER; Railroad Commissioners Make a Report Giving the Results of Their Investigation. FINDINGS ARE INCONCLUSIVE Final Conclusions Are that the Train Was Wrecked Either by Derailment, Which Destroyed the Embankment, or that the Embankment Gave Way", New York Times, 1897-12-17. Retrieved on 2011-02-19.
↑ "Nineteen Lives Lost. New York Central Express Plunges Into the Hudson River Near Garrisons.", October 25, 1897. Retrieved on 2011-02-12. "New York Central Express Plunges Into the Hudson River Near Garrisons. Embankment Slides Out. Engineer Foyle and Fireman Thompson Drowned with Their Engine. Eight Chinamen are Drowned. Several of the Passengers Were Hurt, and All in the Cars and First Three Sleepers, Which Plunged into the River, Suffered from Exposure and Shock. By one of the most remarkable accidents in the history of railroads, the "State Express," No. 46, of the New York Central and Hudson River Road, ..."
↑ 4.0 4.1 "Not Accident Responsible for Garrison Catastrophe", Youngstown Vindicator, 1897-10-27, pp. 1. Retrieved on 2011-02-19.